TIPS DETAIL - Karupumilagu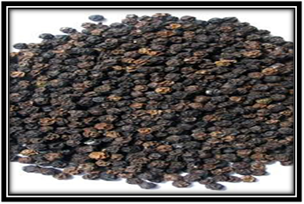 Pepper is one of the oldest and most important of all spices. It is known as the king of spices. Pepper is one of the most popular spices used in a variety of food preparation and is a household remedy for many ailments. Black Pepper is used for improving digestion. It has antibacterial and antioxidant effects, stimulates the breakdown of fat cells while giving you energy to burn. It also cures cold, cough and congestions.

Black pepper is a dietary source of vitamin C, and Vitamin K
For Cold -
Pepper is useful in treating a cold. A little pepper powder with honey taken every morning and evening will relieve you of cold
For Cough and Phlegm -
Pepper powder with turmeric powder added in a glass of milk will relieve you of cough and phlegm.
For Oral Care -
Rinse you mouth with a pinch of Pepper powder and salt after food, will prevent bad breath, painful gums and stops gum bleeding.
Indigestion/Flatulence and colic -
½ teaspoon of grounded black pepper in hot water, before food, helps in indigestion, flatulence and colic.