TIPS DETAIL - Curry Veppilai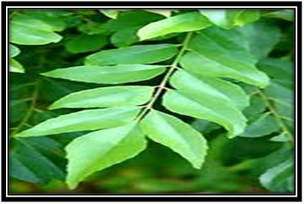 The main nutrients found in curry leaves are carbohydrates (கார்போஹைட்ரேட்), energy, fibre, calcium, phosphorous, iron, magnesium, copper (செப்பு) and minerals (கனிமங்கள்)

For Diarrhea & Piles -
Tender curry leaves mixed with honey are used for diarrhea & piles
For indigestion -
If you are suffering from indigestion due to excessive intake of fatty food, just take a tablespoon of freshly grounded curry leave's juice with a little lime juice and sugar.
Prevent Diabetes -
Just by eating 10 fresh fully grown curry leaves every morning, in empty stomach will prevent diabetes.
Premature Greying of Hair -
Intake to curry leaves is considered useful in preventing premature greying of hair. The leaves have property to nourish the hair root.
Curry leaves with Hibiscus boiled with coconut oil can be used as hair oil which would delay greying of hair.